PARIS INTERNATIONALE


The 5th edition of Paris Internationale takes place from October 16 until October 20, 2019 at 16 Rue Alfred de Vigny, 75008 Paris.

Paris Internationale was established in 2015 as an innovative alternative to traditional art fairs to support a young generation of galleries. In only four editions, it has developed into a pivotal initiative to promote the work of emerging artists and rediscover more established figures. Dedicated to raising the level of the art discourse in the context of fairs, Paris Internationale keeps its participation costs reasonable to encourage risk taking and present its audience with a selection of artworks at the forefront of the contemporary practices.

Responding to our current political climate, faced with challenges that redefine what it means to live together, PI was built upon principles of openness and inclusivity. The fair and its public programs are accessible for free and welcoming to all.




Co-Directors:
Silvia Ammon, Clément Delépine

silvia@parisinternationale.com
clement@parisinternationale.com


Committee:
Galerie Antoine Levi, Paris
Galerie Crèvecoeur, Paris
Galerie Gregor Staiger, Zurich
Galerie Sultana, Paris
Stephan Tanbin Sastrawidjaja, Project Native Informant, London
Paul Soto, Park View / Paul Soto, Los Angeles and Brussels

Paris Internationale Board:
Galerie Antoine Levi, Paris
Galerie Crèvecoeur, Paris
Galerie Gregor Staiger, Zurich
Galerie Sultana, Paris



Communication: Studio Marie Lusa
Legal Advice: Sibylle Loyrette


Paris Internationale is a non-profit association whose offices are located at 44 Rue Ramponeau, 75020 Paris.




EXHIBITORS 2019

650mAh, Hove
1856, Melbourne
Antoine Levi, Paris
Bodega, New York
BQ, Berlin
Bureau, New York
Carlos/Ishikawa, London
Capsule, Shanghai
Chapter NY, New York
Crèvecoeur, Paris
Croy Nielsen, Vienna
Deborah Schamoni, Munich
Emalin, London
Ermes - Ermes, Vienna
Essex Street, New York
EXIT, Hong Kong
Federico Vavassori, Milan
Felix Gaudlitz, Vienna
Full–Fall, Milan
Galerie Bernhard, Zurich
Gordon Robichaux, New York
Goswell Road, Paris
greengrassi, London
Gregor Staiger, Zurich
Hagiwara Projects, Tokyo
Kayokoyuki, Tokyo
Koppe Astner, Glasgow
KOW, Berlin
La Plage, Paris
Lars Friedrich, Berlin
MadeIn, Shanghai
Max Mayer, Dusseldorf
Misako & Rosen, Tokyo
mother's tankstation, Dublin | London
Öktem Aykut, Istanbul
Park View/Paul Soto, Los Angeles
Paris Ass Book Fair, Paris
Project Native Informant, London
ROH Projects, Jakarta
Sang Bleu, London
Sans titre (2016), Paris
Shivers Only, Paris
Southard Reid, London
Sultana, Paris
Tanya Leighton, Berlin
Temnikova & Kasela, Tallinn
The Performance Agency, Berlin
Tirana Art Center, Tirana
Union Pacific, London
VEDA, Florence
Wschód, Warsaw
XYZ collective, Tokyo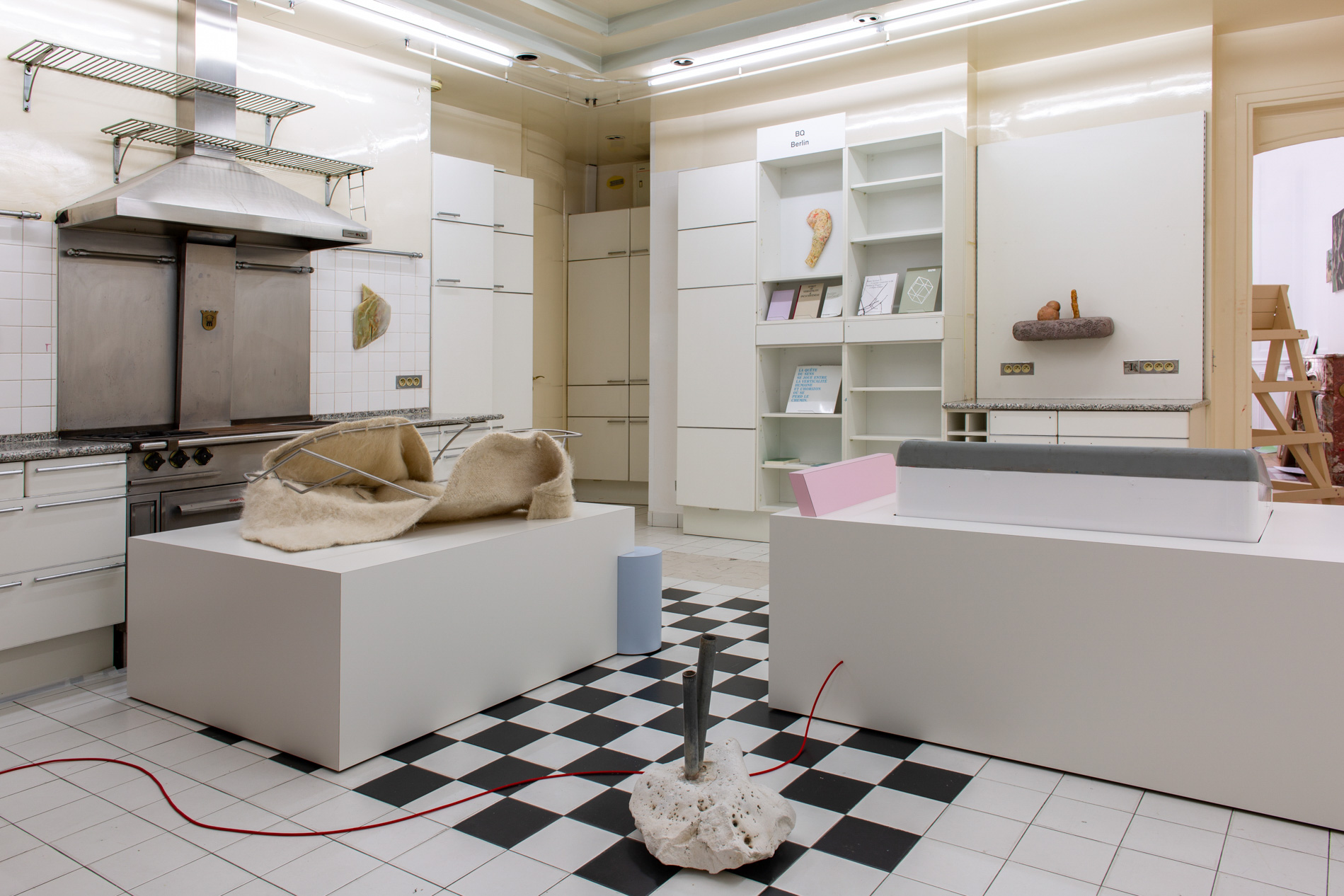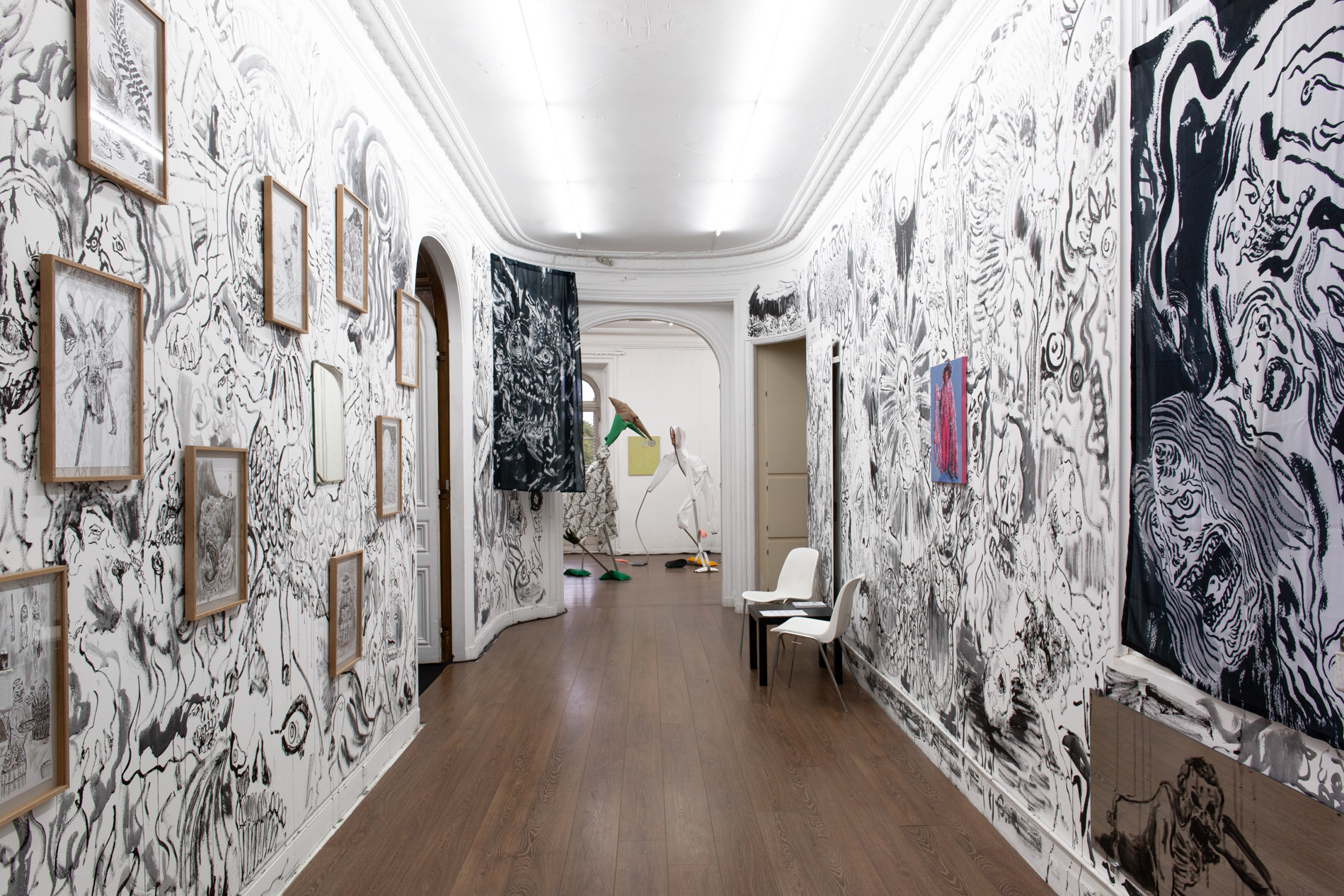 PROGRAM


DAILY DÉRIVES *

Thursday 17.10, 2pm ︎ Oriane Durand (Director, Kunstverein Dortmund) and Dorith Galuz (Collector) ︎ In French / en français ︎

Friday 18, 4:30pm ︎ Lucia Pietroiusti (Curator, General Ecology and Curator, Lithuanian Pavillion, Golden Lion at the 2019 Venice Art Biennale) and Martin Guinard-Terrin (Co-curator of the 2020 Taipei Biennial) ︎ In English / en anglais ︎


THE PERFORMANCE AGENCY
(en français ci-dessous)

For the 5th edition of Paris Internationale, The Performance Agency presents: The Clockwork (privately public, publicly private).
The Clockwork is an interactive TV Studio that takes shape in the retro-futuristic stage titled House of Trouble (H.O.T.)conceived by the artist Stephanie Stein. During the opening hours of the fair, public speeches are filmed, recorded, and streamed on-site and broadcast on the TV channel Souvenirs from Earth. Speakers from all backgrounds (politics, arts, academia, research, civil society,…) are invited to formulate ideas on the notion of transformation. The Clockwork approaches the speech in the widest sense of the word, as declamations can be sung, silenced, or translated into body movements. The speech becomes performance, becomes manifest.
Uwe Schneidewind's most recent book, "Die große Transformation"( "The big transformation"), has been a key inspiration to The Clockwork and informed its approach. Factually, yet optimistically, Schneidewind postulates the interconnectivity of all fields of research as the only path towards a sustainable future. Such interconnectivity reflects the capacity to connect cultural change, progressive politics, science, new economies and innovative technologies. Schneidewind's thesis encourages politicians, civil society, corporations and each and everyone of us to become "artists of the future" ("ZukunftskünstlerInnen").
The Clockwork is about speaking out. What would you like to say? To take part, email us at info@performanceagency.biz

SCHEDULE / HORAIRES

Tuesday, 15.10.2019

7pm ︎ Prioux & Peixoto (artists) invite Manfred & Agnès Sternjakob, "Le moins de résistance possible"

Thursday, 17.10.2019

1pm ︎ Ramo Zeroual (artist), Lessons from my grandmother
1:30pm ︎ Philippe Moscato (exorcist)
2pm ︎ Antoine Matras a.k.a Pancake (rapper, age 15), Demain
2:30pm ︎ Tarren Johnson (artist, choreographer) and Joel Cocks (artist), Dripfeed.tv - Episode 2: Screen Test, part 1
3pm ︎ miss LNI (artist, filmmaker, hetaera), RITE
3:30pm ︎ Nobuaki Fuji (seismologist, composer) & Ensemble, InSight Suite N.0
4:30pm ︎ Dan Bodan (musician), Practico-inert

Friday, 18.10.2019

1pm ︎ Yann Toma (artist) in conversation with Baudouin Jannink (publisher)
2pm ︎ Tarren Johnson (artist, choreographer) and Joel Cocks (artist), Dripfeed.tv - Episode 2: Screen Test, part 2
2:30pm ︎ Roberte La Rousse (une collective), Wikifémia - Computer Grrrls (extract)
3pm ︎ Mikael Civic (activist, Extinction Rebellion), Report
4pm ︎ Claudia Hill (artist), Chakra Sessions
5:30pm ︎ Marcelo Alcaide
6pm ︎ Victor & Alexandre Carril (actors, filmmakers), Between Realities

Saturday, 19.10.2019

12pm ︎ Martha Kirszenbaum (curator)
12:30pm ︎ Raphaële Lenseigne (artist, designer), Shapes of Rafa
1:30pm ︎ High school students (Lycée Autogéré de Paris)
2pm ︎ Kaspar Müller (artist), Images from the lake of Zurich
2:30pm ︎ Tenzing Barshee (curator), Poems by Mary Oliver
3pm ︎ Klima Magazine invites Emanuele Coccia (philosopher) for tea time
4pm ︎ Amadeus Vogelsang (artist)
4:30pm ︎ Claudia Hill (artist), Chakra Sessions
6pm ︎ Chloé Luchs-Tassé (Co-founder University of Plurality) & François Levin (PhD candidate in philosophy, Ecole Polytechnique), How to stop complaining and start living a magnificent life
6:30pm ︎ Vava Dudu (artist, musician, designer)
7pm ︎ Antoine Héraly (artist) & Hugo Villard (makeup artist), Le Fou et le Monde

Sunday, 20.10.2019

12pm ︎ Lulëzim Ukaj (artist), Good Night, Mr Orwell
12:30pm ︎ KATEL (choir)
1pm ︎ Cyril Duval, 'ITEM IDEM'
1:30pm ︎ Morgane Dubled (agent) reading Hanna Putz, wearing HULFE
2pm ︎ Sinziana Ravini (curator, writer) in conversation with a surprise guest
2:30pm ︎ R.O. Fitzpatrick
3:30pm ︎ Esben Weile Kjaer (artist), Have you ever been afraid
4:pm ︎ Ali Rabeh (Deputy mayor of Trappes, spokesman of Génération.s), Futuristic field policies
5pm ︎ Louise Siffert (artist), That Flame

About the Performance Agency
The Performance Agency, founded by Yael Salomonowitz in 2017, is a curatorial platform that brings together artists from various fields to enact new performative happenings. Informed by the earliest movements in performance art, The Performance Agency re-approaches the late avant-gardes to conceive new transformative dramaturgies for the 21st century. Upon invitation by Supportico Lopez, The Performance Agency curated the public program of Archivio Conz in Berlin over the past two years, inviting contemporary artists to engage with the material of Francesco Conz' vast collection and developed one of its signature formats: the Mass. Since then The Performance Agency has realised a vast number of nomadic projects - moving the audience through churches or along river beds - drawing our attention to the in-between, in a continuous attempt to create immersive experiences accessible to all. Most recently The Performance Agency has extended its activity to the representation and production of innovative performance artists and musicians and has opened a second studio in Paris.

THE PERFORMANCE AGENCY: FR

Pour la cinquièmeédition de Paris Internationale, The Performance Agency présente : The Clockwork (privately public, publicly private).
The Clockwork est un studio télévisé interactif dont le plateau rétrofuturiste intituléHouse of Trouble (H.O.T.) a étéconçu par l'artiste Stephanie Stein. Pendant les heures d'ouverture de la foire, des orateurs de tous horizons (art, politique, recherche, sociétécivile, anonymes…) sont invitésà y parler de l'idée de transformation. Les discours filmés sont diffusés dans le salon adjacent au studio et sur la chaîne de télévision Souvenirs from Earth. The Clockwork aborde le discours au sens large, en ce que les déclamations peuvent être chantées, tues ou bougées. Ces paroles, comme autant de visions de possibles futurs, deviennent performance, deviennent un manifeste.
L'une des inspirations principales de The Clockwork est le dernier livre d'Uwe Schneidewind, "Die große Transformation"( "La grandetransformation"), qui a défini l'approche du programme. Factuellement, mais non sans optimisme, Schneidewind postule l'interconnection de tous les champs de recherche comme la seule voie possible vers un avenir durable. Cette interconnection reflète notre capacité à faire se répondre les changements culturels, les politiques progressistes, la science, les nouveaux modèles économiques et les innovations technologiques. La thèse centrale de Schneidewind encourage les politiciens comme les acteurs de la société civile, des corporations jusqu'à chaque individu à devenir les "artistes du futur" ("ZukunftskünstlerInnen").
The Clockwork est une prise de parole. Que souhaitez-vous dire ? Pour participer, écrivez-nous à info@performanceagency.biz
À propos de the Performance Agency
The Performance Agency, fondée par Yael Salomonowitz en 2017 à Berlin, est une plateforme curatoriale rassemblant des artistes de tous champs pour produire des happenings performatifs. Inspirée par les débuts de la performance et les concepts des avant-gardes tardives, The Performance Agency développe de nouvelles dramaturgies transformatives pour le 21e siècle. Sur invitation de la galerie Supportico Lopez, The Performance Agency a conçu pendant deux ans le programme public de l'Archivio Conz à Berlin, invitant des artistes contemporains à interagir avec la vaste collection Fluxus de Francesco Conz. C'est le point de départ d'une série en trois volet de mises en scènes "totales" intitulée Mass. Depuis, The Performance Agency réalise différents projets nomades, emportant son public dans une église ou le long des rives d'un fleuve, désignant des interstices, activant des espaces omis ou précaires par la création d'expériences immersives accessibles à tous. Plus récemment, The Performance Agency a étendu ses activitésàla représentation de performeurs et de musiciens novateurs et a ouvert une seconde antenne à Paris.

*
DAILY DERIVES: ENG

Building up on last year's success, Paris Internationale has worked on a second iteration of Daily Dérives, a program of conversations which take form as commented visits of this fifth edition lead by a pair of key figures.

As they progress through the four floors of the venue, artists, curators, critics, teachers, collectors (sometimes all of the above) will exchange about the artworks on view in a flâneur spirit.
Truthful to the Situationist meaning of the dérive, we encourage the expression of personal points of view and hope for an intimate experience for individuals who "let themselves be drawn by the attractions of the terrain and the encounters they found there" (Guy Debord).

DAILY DERIVES: FR



Encouragée par le succès rencontré par ce programme en 2018, Paris Internationale proposera cette année encore plusieurs Daily Dérives. Menées par un duo de personnalités emblématiques du milieu de l'art ces conversations prendront la forme de visites guidées à l'intérieur de Paris Internationale 2019.

Dans un esprit de flânerie, artistes et curateurs, critiques et spécialistes, collectionneurs et théoriciens (parfois tout à la fois) déambuleront dans la foire en échangeant sur les oeuvres présentées.

Fidèles à l'interprétation situationniste de la dérive, nous privilégions l'expression de points de vue personnels aux démonstrations académiques et espérons offrir une expérience intime aux personnes tentées de « se laisser aller aux sollicitations du terrain et des rencontres qui y correspondent ». (Guy Debord)

Les binômes et horaires des visites seront annoncés début octobre sur notre site internet et nos réseaux sociaux. Dans l'intervalle, merci de nous contacter à l'adresse rsvp@parisinternationale.com pour toute demande d'informations ou pour vous inscrire.