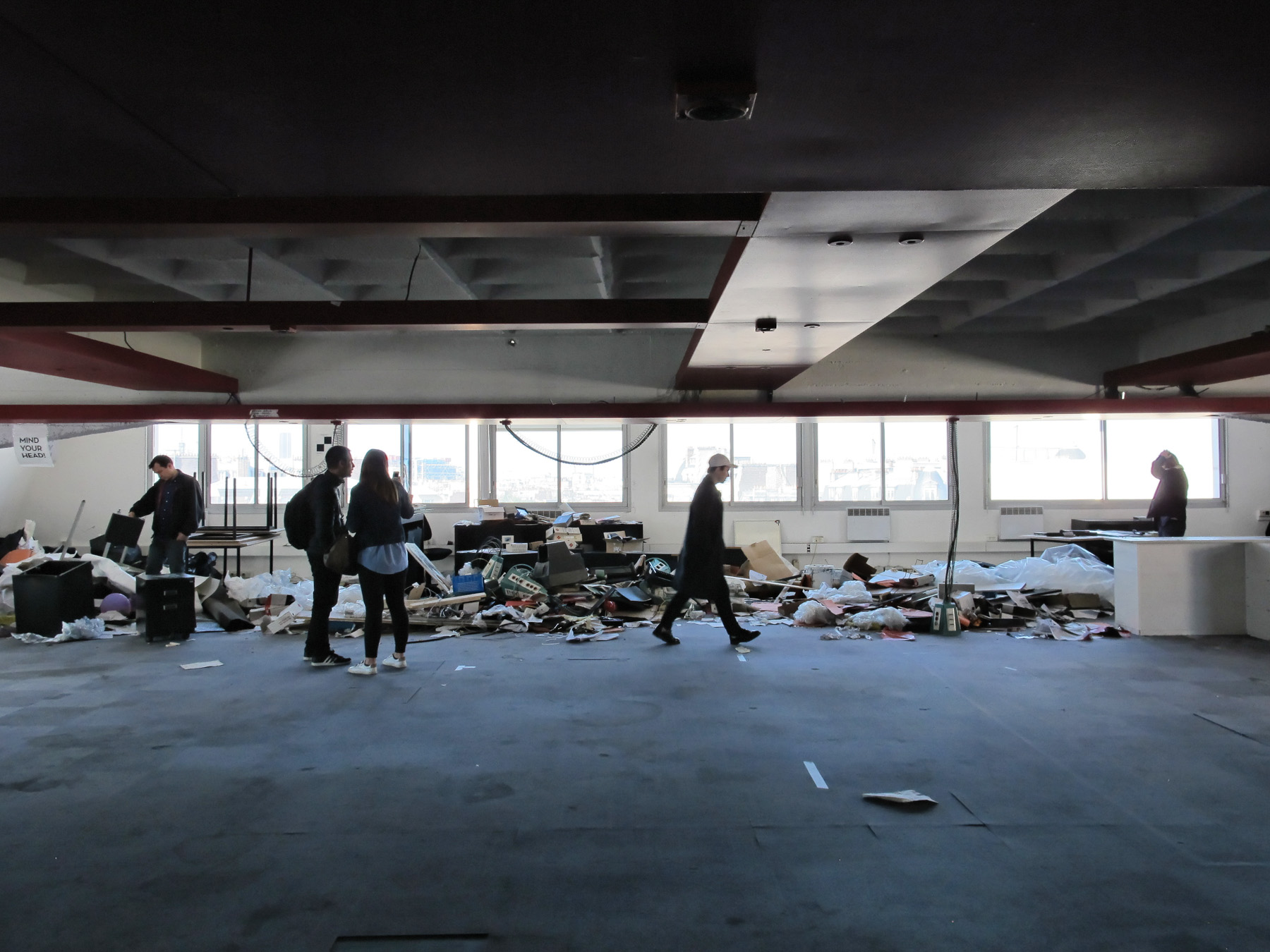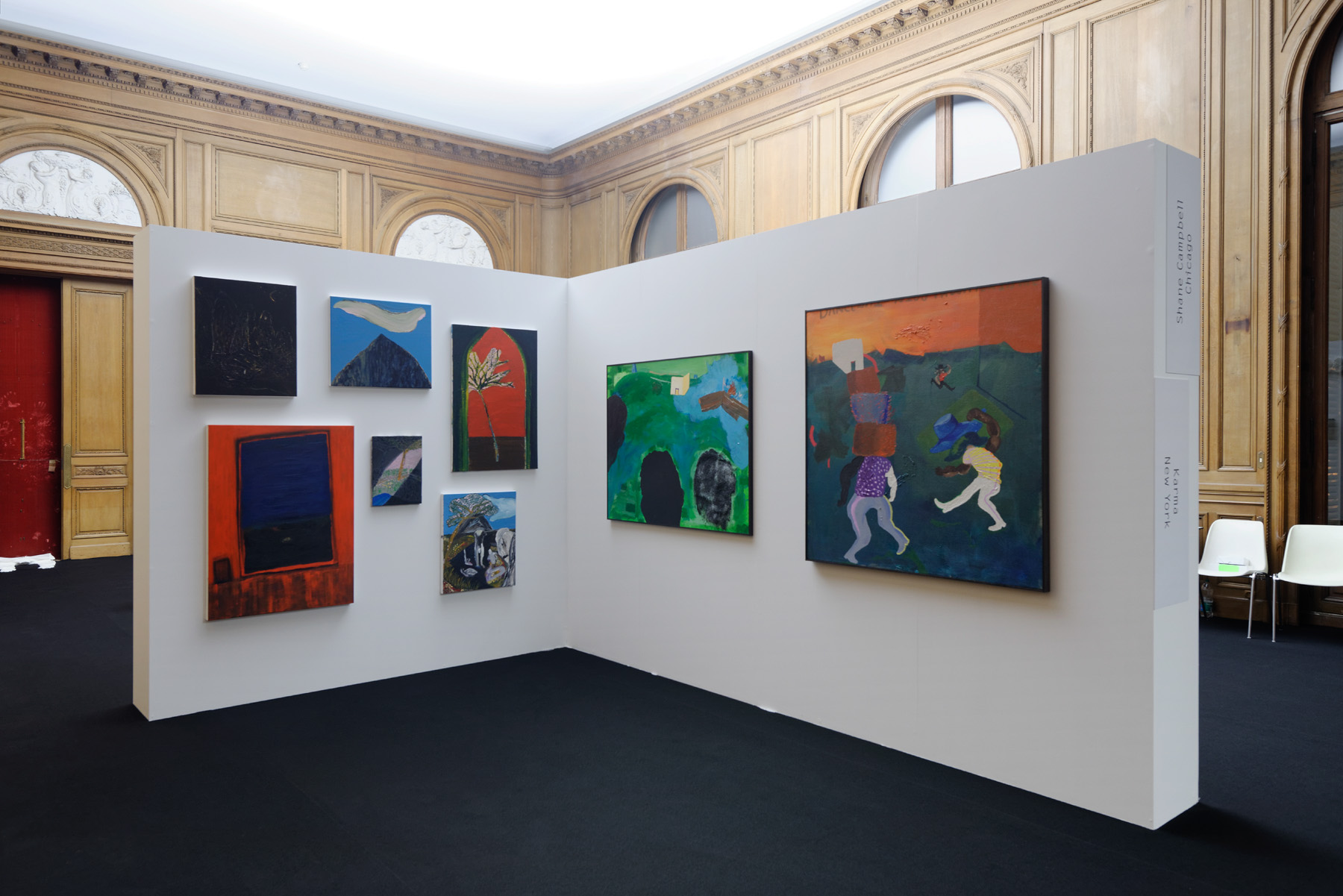 The 5th edition of Paris Internationale will take place from October 16 until October 20, 2019 at 16 Rue Alfred de Vigny, 75008 Paris.

Paris Internationale was established in 2015 as an innovative alternative to traditional art fairs to support a young generation of galleries. In only four editions, it has developed into a pivotal initiative to promote the work of emerging artists and rediscover more established figures. Dedicated to raising the level of the art discourse in the context of fairs, Paris Internationale keeps its participation costs reasonable to encourage risk taking and present its audience with a selection of artworks at the forefront of the contemporary practices.

Responding to our current political climate, faced with challenges that redefine what it means to live together, PI was built upon principles of openness and inclusivity. The fair and its public programs are accessible for free and welcoming to all.




Co-Directors:
Silvia Ammon, Clément Delépine

silvia@parisinternationale.com
clement@parisinternationale.com


Committee:
Galerie Antoine Levi, Paris
Galerie Crèvecoeur, Paris
Galerie Gregor Staiger, Zurich
Galerie Sultana, Paris
Stephan Tanbin Sastrawidjaja, Project Native Informant, London
Paul Soto, Park View / Paul Soto, Los Angeles and Brussels

Paris Internationale Board:
Galerie Antoine Levi, Paris
Galerie Crèvecoeur, Paris
Galerie Gregor Staiger, Zurich
Galerie Sultana, Paris



Communication: Studio Marie Lusa
Legal Advice: Sibylle Loyrette


Paris Internationale is a non-profit association whose offices are located at 44 Rue Ramponeau, 75020 Paris.



Call for projects:
Non-profit spaces


Since its foundation in 2015, Paris Internationale has supported the major contribution of non-profit spaces by inviting them to participate for free to the fair and celebrate their often fragile existence.

The first two editions of Paris Internationale welcomed seven non-profit spaces from France and beyond. In 2017, eight Parisian spaces were invited to the third edition of the fair to call attention to the vivacity of the local scene. On the occasion of its fourth edition last year, Paris Internationale reviewed its selection process and offered spaces to submit a proposal through an international call for projects. Encouraged by the positive outcome of this experience, it has been decided to renew this call for the 2019 edition.

To facilitate the application procedure, please refer to the few guidelines below.


How to apply?


Spaces interested in submitting a proposal are welcomed to do it no later that June 7, 2019. Applications should be sent in a PDF format and include images. Every proposal should mention a brief history of the structure (images, previous exhibitions, etc…) and explain the project for Paris Internationale. Due to the volume of applications, please limit the texts to 500 words or less.

Solo presentations and curated group shows will be favored.

All materials must be sent to contact@parisinternationale.com with the name of your structure and its location in the subject line.

Please kindly note that Paris Internationale offers a space within the fair but cannot cover any travel expenses, production costs, installation, shipment or accommodation costs associated with the projects.

Paris Internationale strongly believes in the importance non-profit spaces. The fair is committed to offer them a presence and is looking forward to receiving your projects! Do not hesitate to reach out for further information. Thank you for your interest!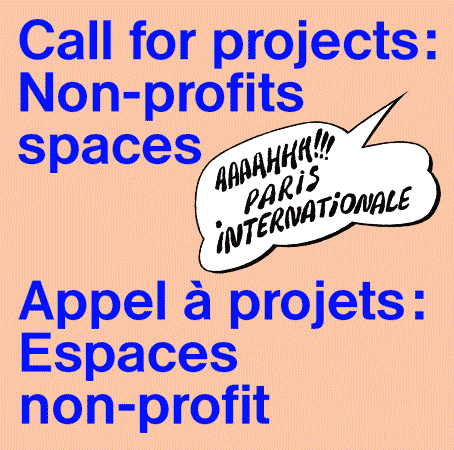 Appel à projets:
Espaces non-profit


Depuis sa fondation en 2015, Paris Internationale soutient la contribution majeure des espaces non-profit à la visibilité des artistes émergents en les invitant à prendre part gratuitement à la foire pour promouvoir leur action.

Les deux premières éditions de Paris Internationale accueillirent chacune 7 structures non-profits françaises et internationales. La troisième édition en accueillit 8, toutes parisiennes, afin de mettre en avant la vivacité de la scène locale. En 2018, pour la quatrième édition, Paris Internationale a repensé la procédure d'invitation en lançant un appel à projets s'étendant également aux espaces situés hors de France. Forts du constat positif de cette expérience, il a été décidé de renouveler cet appel.

Afin de faciliter le traitement des candidatures, merci de vous référer aux quelques lignes directrices ci-dessous.


Comment faire parvenir sa candidature ?

Les espaces intéressés à participer sont encouragés à soumettre leurs candidatures d'ici le 7 juin 2019. Les dossiers de candidature doivent être envoyés en format PDF et comprendre les images. Chaque candidature doit présenter brièvement l'espace et son histoire (images, expositions passées, etc…) et préciser la nature du projet pour Paris Internationale. En raison du nombre important de dossiers, merci de limiter les textes à un maximum de 500 mots.

La priorité sera donnée aux présentations d'un/e artiste solo ou aux projets collectifs répondant à une proposition curatoriale.

Veuillez faire parvenir vos projets à l'adresse contact@parisinternationale.com en mentionnant le nom de votre espace et le lieu où il se situe dans le sujet de l'email. Paris Internationale met à disposition un espace mais ne peut malheureusement pas participer aux frais de production, d'installation, de transports ou d'hébergement liés à chaque projet.

Convaincue de l'importance des espaces non-commerciaux et engagée à leur offrir une présence au sein de la foire, Paris Internationale attend vos propositions avec enthousiasme. N'hésitez pas à prendre contact pour tout complément d'information. Merci pour votre intérêt !



EXHIBITORS 2019

650mAh, Hove
1856, Melbourne
Antoine Levi, Paris
Bodega, New York
BQ, Berlin
Bureau, New York
Carlos/Ishikawa, London
Capsule, Shanghai
Chapter NY, New York
Crèvecoeur, Paris
Croy Nielsen, Vienna
Deborah Schamoni, Munich
Emalin, London
Ermes - Ermes, Vienna
Essex Street, New York
EXIT, Hong Kong
Federico Vavassori, Milan
Felix Gaudlitz, Vienna
Full–Fall, Milan
Galerie Bernhard, Zurich
Gordon Robichaux, New York
Goswell Road, Paris
greengrassi, London
Gregor Staiger, Zurich
Hagiwara Projects, Tokyo
Kayokoyuki, Tokyo
Koppe Astner, Glasgow
KOW, Berlin
La Plage, Paris
Lars Friedrich, Berlin
MadeIn, Shanghai
Max Mayer, Dusseldorf
Misako & Rosen, Tokyo
mother's tankstation, Dublin | London
Öktem Aykut, Istanbul
Park View/Paul Soto, Los Angeles
Paris Ass Book Fair, Paris
Project Native Informant, London
ROH Projects, Jakarta
Sang Bleu, London
Sans titre (2016), Paris
Shivers Only, Paris
Southard Reid, London
Sultana, Paris
Tanya Leighton, Berlin
Temnikova & Kasela, Tallinn
The Performance Agency, Berlin
Tirana Art Center, Tirana
Union Pacific, London
VEDA, Florence
Wschód, Warsaw
XYZ collective, Tokyo
PROGRAM


Public programs for 2019 are in the works...



Captions left to right: Paris Internationale 2015; Performance, New Noveta, PI 2016; Performance, Adam Christensen, PI 2015; Spike Conversations, PI 2015; Lonely Boys, PI 2017; The Cheapest Universtiy, PI 2017; PI Talks 2016; Performance, Studio for Propositional Cinema, PI 2016.





PRESS


For press inquiries please contact: press@parisinternationale.com

Press Kit: ︎ | Dossier de presse: ︎