For their second collaboration with Paris Internationale, Christ & Gantenbein have again embraced the uniqueness of the given venue. They have created an exhibition design that accentuated the building's typological features while focusing on permeability and connectivity. This exceptional venue featured large plateaux with extensive glazing, double-height spaces under expressive beams, and three internal courtyards flooded with light. It thus provided a given of very high-quality that allowed the architectural intervention to be as minimal as possible. This strategy of economy of means was further pursued in the reuse of many elements from previous editions, together with the infrastructure found on site.
Christ & Gantenbein's exhibition design interprets the building as an urban space, fostering a sense of openness and exchange. Spreading across the building's vast expanse of 5000 m2, the gallery spaces were complemented with open areas that encouraged exploration, discovery, and fostered a sense of community.
Adopting once again a radical system that set a clear framework by introducing walls instead of boxes, the design challenged the encapsulation typical of art fair layouts. True to the identity of Paris Internationale, neon lights and simple plasterboard walls remained primary elements, delineating booths and showcasing artwork. The result, underpinned by a commitment to maintain the building's historical integrity while introducing modern elements that facilitated the display and appreciation of art, resulting in a bold dialogue between the past and the present.
Some of Christ & Gantenbein's major completed projects include the expansion and transformation of the Swiss National Museum in Zurich and the extension of the Kunstmuseum Basel. Among their diverse range of current projects are the recently completed housing development in Paris' 15th arrondissement, the extension of the Wallraf-Richartz Museum in Cologne, the extension of the MACBA in Barcelona, and the Kunstmuseum Main Building Renovation in Basel.
Pour leur deuxième collaboration avec Paris Internationale, Christ & Gantenbein ont de nouveau embrassé le caractère unique du lieu qu'ils investissaient en accentuant les caractéristiques typologiques du bâtiment. Comme l'année précédente, le design des espaces d'exposition axé sur la perméabilité et la connectivité remettait en question l'enfermement traditionnel souvent associée aux stands des foires d'art. Le nouveau lieu exceptionnel de Paris Internationale 2023 était marqué par des espaces à double hauteur avec des poutres de béton apparentes, de grandes fenêtres et trois cours intérieures inondées de lumière. Face à la qualité de ce cadre, l'intervention architecturale fut réduite au plus strict minimum. Cette stratégie d'économie de moyens s'est poursuit par la réutilisation de nombreux éléments des éditions précédentes, ainsi que des infrastructures du site.
La conception des espaces d'exposition de Christ & Gantenbein met l'accent sur une relation avec l'espace urbain, favorisant un sentiment d'échange et d'ouverture. Répartie sur les 5 000 m2 du bâtiment, l'édition 2023 abritait 71 participants venus de plus de 20 pays dont chacun des espaces encourageait à l'exploration et à la découverte.
En remplaçant les boîtes par des murs les architectes ont une fois de plus adopté un système radical qui fixait un cadre clair et remettait en question les stands cubiques et fermés sur eux-mêmes, typiques des foires d'art. Fidèles à l'identité de Paris Internationale, les néons et les murs simples demeuraient les principaux éléments utilisés pour délimiter les stands et mettre en valeur les œuvres. Ponctué d'éléments moderne qui facilitaient la circulation et l'appréciation des œuvres et respectueux de l'intégrité historique du bâtiment, le résultat fut un mélange audacieux au sein duquel le passé dialoguait avec le présent.
Parmi les principaux projets réalisés par Christ & Gantenbein figurent l'agrandissement et la transformation du Musée national suisse de Zurich et l'extension du Kunstmuseum de Bâle. Parmi projets en cours, on trouve notamment le développement récent du 15e arrondissement de Paris, l'extension du musée Wallraf-Richartz à Cologne, l'extension du MACBA à Barcelone et la rénovation du bâtiment principal du Kunstmuseum de Bâle.
On the occasion of this 9th edition, Paris Internationale was proud to host A Drawing for Morocco, a major fund-raising campaign and drawing sale launched by Mustapha Bouhayati, Samy Ghiyati, Nicolas Nahab and Mouna Mekouar.
Following the earthquake that tragically struck the valleys and the Atlas Mountains in southern Morocco, a strong movement of mutual aid and support was expressed to help the population. Following the humanitarian emergency, what became obvious was the state of desolation of the villages, an endangered architectural heritage and the necessity to help finance a timely reconstruction using vernacular architectural principles that integrate local know-hows and ancient earthquake-resistant systems.
To this end, more than 150 artists from all over the world have been invited to take part in producing one or more works to be exhibited and sold at Paris Internationale. All were produced on the same A5 format, using different techniques and signed on the back. Presented anonymously, each was offered for sale, without bidding and at a single price.
Thanks to the artists and donors, more than 240,000 Euros have been raised, and some donations are still coming in. All proceeds from the sale will be used to fund community initiatives led by Salima Naji, an anthropologist and architect who has been working in these regions for over twenty years.
Pour sa 9ème édition, Paris Internationale est fière d'avoir accueilli A Drawing for Morocco, une vente caritative dessins d'ampleur internationale organisée par Mustapha Bouhayati, Samy Ghiyati, Nicolas Nahab et Mouna Mekouar.
Suite au séisme qui a tragiquement frappé les vallées et les montagnes de l'Atlas, au Sud du Maroc, un fort mouvement d'entraide et de soutien s'est exprimé pour porter secours à la population. Après cette urgence humanitaire, le constat de la désolation des villages, d'un patrimoine architectural en péril et de la nécessité d'une reconstruction rapide et respectueuse des principes architecturaux vernaculaires intégrant les savoir-faire et les systèmes antisismiques traditionnels s'est imposé.
Pour ce faire, plus de cent cinquante artistes du monde entier ont été invités à se mobiliser en produisant une à plusieurs œuvres. Toutes ont été réalisées sur un même format A5, selon différentes techniques et signées au dos. Présentés de façon anonyme, tous les dessins ont été proposés à la vente, sans enchère, à un tarif unique.
Grace à la générosité des artistes et donateurs, plus de 240 000 euros ont été rassemblés tandis que d'autres dons parviennent encore. L'intégralité des recettes de cette vente alimentera plusieurs initiatives associatives pilotées par Salima Naji, anthropologue et architecte qui œuvre depuis plus de vingt ans dans ces régions.
Once again this year, WE ARE ONA have settled down at Paris Internationale to extend the experience for visitors by offering them a unique and daring cuisine that reflected the image of the fair. In a brand new space specially created by designer Harry Nuriev (Crosby Studio), the pop-up showcased a back kitchen that tilted into the foreground, visible and accessible, like a field of artistic experimentation opened to all. Berlin based chef Dalad Kambhu has created a 5-course tasting menu for lunch and 8-course tasting menu for dinner, inspired by her Thaï heritage, combining complex flavours with local produce.
Cette année encore, WE ARE ONA s'est installé à Paris Internationale pour prolonger l'expérience de ses visiteurs en leur offrant une cuisine unique et audacieuse, à l'image de la foire. Dans un espace inédit créé spécialement par le designer Harry Nuriev (Crosby Studio), le pop-up a mis à l'honneur l'arrière-cuisine basculant au premier plan, visible et accessible, comme un terrain d'expérimentation artistique offert à tous. La chef berlinoise Dalad Kambhu a été invitée à créer un menu dégustation de 5 plats pour le déjeuner et de 8 plats pour le dîner, inspiré de son héritage thaïlandais, combinant saveurs complexes et produits locaux.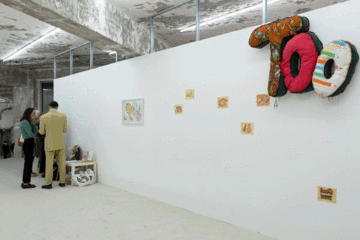 For the second year running, Paris Internationale and Centre national des arts plastiques (CNAP) have teamed up for an exhibition programme within the fair entitled MAINTENANT!
Four artists - Eva Barto, Béatrice Lussol, Malik Nejmi and the duo Grout/Mazéas - were invited to exhibit an artistic project that has received support from CNAP. MAINTENANT! is a continuation of the initiatives undertaken by CNAP to support artists at different stages of their careers through targeted partnerships. This proposal aimed to underline CNAP's long-term commitment to artists and to their research, experimentation and creative work, in a specific context and at a given time: MAINTENANT! (Now!)
CNAP is one of the main operators of the Ministry of Culture's visual arts policy. On behalf of the French State, it enriches the Fonds national d'art contemporain, a national collection that it preserves and promotes through loans and deposits in France and abroad, partner exhibitions and publications. With over 107,000 works acquired from 22,000 artists over more than two centuries, this collection is representative of a wide variety of artistic movements. It also helps to raise the profile of the supported projects through distribution activities. By supporting artists and professionals, including galleries, CNAP is an essential public partner, making a significant contribution to the cultural development of the French art scene.
Pour la deuxième année consécutive, Paris Internationale et le Centre national des arts plastiques (Cnap) se sont associés pour un programme inédit intitulé MAINTENANT!
Quatre artistes − Eva Barto, Béatrice Lussol, Malik Nejmi et le duo Grout/Mazéas− ont été invité à exposer leur travail issu d'un soutien du Cnap à travers son dispositif d'aide au projet artistique. MAINTENANT! s'inscrit dans la continuité des actions mises en œuvre par le Cnap pour accompagner, dans le cadre de partenariats ciblés, des artistes à différents moments de leurs parcours. Cette proposition a permis de souligner l'engagement dans le temps long du Cnap auprès des artistes et en faveur de leur travail de recherche, d'expérimentation et de création, dans un contexte spécifique et un temps donné : MAINTENANT!
Le Cnap est l'un des principaux opérateurs de la politique du ministère de la Culture dans le domaine des arts visuels. Il enrichit, pour le compte de l'État, le Fonds national d'art contemporain, collection nationale qu'il conserve et fait connaître par le biais de prêts et de dépôts en France et à l'étranger, d'expositions en partenariat et d'éditions. Avec plus de 107 000 œuvres acquises auprès de 22 000 artistes depuis plus de deux siècles, cette collection constitue un ensemble représentatif d'une grande variété de courants artistiques. Il contribue également à la valorisation des projets soutenus par la mise en œuvre d'actions de diffusion. En accompagnant artistes et professionnels, notamment les galeries, le Cnap est un partenaire public essentiel des arts visuels qui participe de façon significative au développement culturel de la scène artistique française.
Encouraged by the richness and popularity of her previous proposals, Paris Internationale has invited Anissa Touati to conceive the fair's public programmes for the third year running. Reflecting the vitality of Paris Internationale, these discussions focused on the programming of the institutions that make France an essential art scene and Paris one of the most innovative and dynamic cities for contemporary art.
Paris Internationale's 2023 public programmes celebrated the links between the artists from its community and the curators, directors of institutions and other professionals involved in contemporary art. Inclusive and open to the world as much as to all the French territories that make its diversity a strength, Paris Internationale also echoed institutions that are sometimes under-represented.
Embracing the transformations of Paris into a greener city thanks to its growing car-free policy, Paris Internationale commits to reflecting the unique Parisian lifestyle by promoting soft mobility. As enjoying the beauty of the city and the proximity of its numerous cultural venues also comes from cycling, Paris Internationale highly recommends it through the city's annual exciting Art Week !
Evidently, Paris Internationale was very proud to create a meaningful partnership with Tenways, a high quality e-bikes brand that undertakes to make daily commuting effortless, speedy, eco-friendly, fun and accessible.
As a natural consequence to this support of biking in Paris, PI's 9th edition proposed a bicycle garage, located at 1 Rue du Conservatoire. A great opportunity to discover Tenways' elegant designs as well as their exclusive bikes customized by artists from Paris Internationale's community !
Embrassant les transformations de Paris en une ville plus verte, Paris Internationale s'engage à refléter le style de vie parisien unique en promouvant la mobilité douce. Parce que profiter de la beauté de la ville et de la proximité de ses nombreux lieux culturels passe aussi par le vélo, Paris Internationale recommande vivement de se déplacer à vélo durant la passionnante Semaine de l'Art !
Paris Internationale est très fière de créer ce partenariat significatif avec Tenways, une marque de vélos électriques de haute qualité qui s'engage à rendre les déplacements quotidiens sans effort, rapides, écologiques, amusants et accessibles.
Conséquence naturelle de ce soutien à la pratique du vélo à Paris, la 9ème édition de PI a proposé un garage à vélos, situé au 1 rue du Conservatoire. Il s'agissait d'une belle occasion de découvrir les designs élégants de Tenways ainsi que leurs vélos personnalisés par des artistes de la communauté de Paris Internationale !