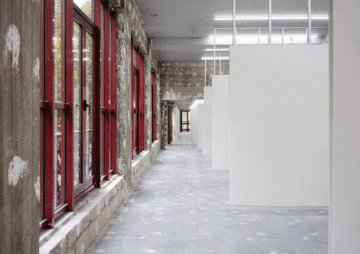 For its 8th edition, Paris Internationale was lucky to be accompanied by renowned Swiss architecture studio Christ & Gantenbein.
Christ & Gantenbein relied on its substantial expertise in creating spaces for art and culture to customize the fair's exhibition design to its location and context. The raw interior was kept largely intact, providing something unexpected in the center of Paris at the Boulevard des Capucines between the Opéra Garnier and La Madeleine. Approaching the 3000 m2 area like a city within a city, Christ & Gantenbein reinterpreted Hausmannian principles with a simple system of lights and temporary walls. The empty shell and deep floor plates were superimposed by a network of straight lines perpendicular to the boulevard, creating an exhibition design that challenged the preconceived idea of the art fair booth. Open pathways stretch from the street to the courtyard, despite any obstacles.
This system, a departure from the corridor as the art fair's central organizational unit, subtly guides visitors around the building with minimal effort and materials. True to Paris Internationale's identity originally defined by Nicolas Dorval-Bory Architectes in 2015 and 2017, neon lights and plasterboard walls are the primary elements used to subdivide the booths and to display artwork.
Christ & Gantenbein's architectural intervention for Paris Internationale imparted the 8th edition of this fair with an approach that merged contextuality with radicality through minimal means, ensuring exhibitors and visitors a unique experience.
Pour cette 8ème édition, Paris Internationale a eu la chance d'être accompagné par le prestigieux cabinet d'architecture suisse Christ & Gantenbein.
Christ & Gantenbein s'est appuyé sur sa solide expertise en création d'espaces dédiés à l'art et la culture pour concevoir la mise en espace de cette édition en lien avec son contexte. L'intérieur brut a été conservé, offrant un espace inattendu au coeur de Paris, sur le Boulevard des Capucines, entre l'Opéra Garnier et la Place Vendôme. Abordant l'espace de 3000 m2 comme une ville dans la ville, Christ & Gantenbein réinterprète les principes hausmanniens de manière radicale, à travers un dispositif d'éclairage et un système de murs temporaires. Dans cette coquille vide, un réseau de lignes droites perpendiculaires au boulevard viennent segmenter les vastes plateaux de béton.
Ce système, mis en œuvre avec une économie de moyens et de matériaux, s'écarte du principe de l'allée comme unité principale d'organisation de la foire pour privilégier la déambulation à travers le bâtiment. Fidèles à l'identité de Paris Internationale conçu par Nicolas Dorval-Bory Architectes en 2015 et 2017, les néons et les murs en plâtre sont les principaux éléments utilisés pour subdiviser les stands et accueillir les œuvres.
L'intervention architecturale de Christ & Gantenbein confère à la 8e édition de Paris Internationale une approche à la fois contextuelle et radicale mise en oeuvre à l'aide d'une économie de moyens, garantissant aux exposants et aux visiteurs une expérience unique.
For the very first time, Paris Internationale and the Centre national des arts plastiques (CNAP) partnered up for a brand-new program: Maintenant!
During the fair, four French artists – Maxime Bichon, Vincent Ceraudo, Marcelline Delbecq and Suzanne Lafont – were invited to exhibit an artistic project made possible by CNAP support. Maintenant! is part of the actions implemented by the CNAP to accompany artists at different moments in their careers and the development of their projects, within the framework of targeted partnerships. This proposition aims to highlight CNAP's long-term commitment to artists towards their research, experimentation, and creation work. All of this is taking place in a specific context, at a specific time: Maintenant!
Centre national des arts plastiques is one of the main operators of the French Ministry of Culture's policy regarding visual arts. On behalf of the French State, the CNAP contributes to the Fonds national d'art contemporain, a national collection that it conserves and promotes through loans and donations (in France and abroad) collaborative exhibitions, and publications. With over 107,000 works from 22,000 artists across two centuries, the collection presents a varied cross-section of artistic currents.
A prominent cultural figure, the CNAP encourages the artistic scene in all its diversity and supports artists and professionals through many programs. This includes specific artistic projects as well as French contemporary art galleries. It also pilots dissemination actions. By supporting artists and professionals, the CNAP is an essential public partner of the visual arts, participating in no small part to the cultural and economic development of the French arts scene.
Pour la première fois, Paris internationale et le Cnap se sont associés pour un programme inédit intitulé Maintenant !
Quatre artistes français - Maxime Bichon, Vincent Ceraudo, Marcelline Delbecq et Suzanne Lafont - ont été invité à exposer pendant la foire un projet artistique issu d'un soutien du Cnap. Maintenant ! s'inscrit dans la continuité des actions mises en oeuvre par le Cnap pour accompagner, dans le cadre de partenariats ciblés, des artistes à différents moments de leurs parcours et des développements de leurs projets. Cette proposition vise à souligner l'engagement dans le temps long du Cnap auprès des artistes et en faveur de leur travail de recherche, d'expérimentation et de création, dans un contexte spécifique et un temps donné : Maintenant !
Le Centre national des arts plastiques (Cnap) est l'un des principaux opérateurs de la politique du ministère de la Culture dans le domaine des arts visuels. Il enrichit, pour le compte de l'État, le Fonds national d'art contemporain, collection nationale qu'il conserve et fait connaître par des prêts et des dépôts en France et à l'étranger, des expositions en partenariat et des éditions.
Avec plus de 107 000 oeuvres acquises auprès de 22 000 artistes depuis plus de deux siècles, cette collection constitue un ensemble représentatif de la variété des courants artistiques. Acteur culturel incontournable, le Cnap encourage la scène artistique dans toute sa diversité et accompagne les artistes ainsi que les professionnels à travers de nombreux dispositifs de soutien, à des projets artistiques mais également à des galeries françaises d'art contemporain. Il met également en oeuvre des actions de diffusion. En accompagnant artistes et professionnels, le Cnap est un partenaire public essentiel des arts visuels qui participe de façon significative au développement culturel et économique de la scène artistique française.
For its 2022 edition, Paris Internationale was pleased to welcome its youngest visitors with a colouring book elaborated in partnership with the renowned colour manufacturer, Pébéo.
With this colouring book, Paris Internationale welcomed tomorrow's artists by offering them a fun way to learn. It allowed children to capture the exhibition space, to really look at the art and to get acquainted with contemporary art. They were able to discover the artists and their work not only by looking at them but also by experiencing them. The colouring book allowed the children to be guided by the works in the fair since the visit was specially conceived for them.
Partnering with Pébéo was an obvious choice: the brand has been campaigning since its inception for the democratization of artistic practices. This commitment has taken shape throughout its history with the creation of ranges specially dedicated to budding artists and with actions to foster the arts among this young public.
Cette année, Paris Internationale a été heureuse d'accueillir ses plus jeunes visiteurs avec un
livret de coloriage réalisé en partenariat avec le fabricant de couleur Pébéo.
La foire s'engage auprès des artistes de demain : en leur offrant une manière ludique d'apprendre, ils ont pu s'approprier l'espace d'exposition, vraiment regarder les oeuvres et faire connaissance avec
l'art contemporain. Ils ont non seulement pu découvrir les artistes et leurs oeuvres en les observant
mais surtout en en faisant l'expérience.
Ce partenariat avec Pébéo était une évidence pour Paris Internationale : la marque a milité dès
sa création pour la démocratisation des pratiques artistiques. Cet engagement s'est concrétisé
au fil de son histoire par la création de gammes spécialement dédiées aux artistes en herbe et
par des actions de promotion des arts auprès de ce jeune public. Ce livret de coloriage a permis aux enfants d'être guidés par les oeuvres puisque la visite a été spécialement conçue pour eux ; elle assume le mélange des genres, cher à Degas lors de l'exposition de 1874.
The 2022 edition of Paris Internationale saw the launch of its first gastronomic pop-up restaurant within the fair premises. It was operated by WE ARE ONA: chef Thomas Graham from Le Mermoz restaurant created the menu, which was accompanied by a wine pairing conceived by Lucy Rosedale and Luca Pronzato.
Founded in 2019 by Luca Pronzato, WE ARE ONA reviews classic gastronomic codes by offering high gastronomy and gustatory experiences in ephemeral places around the world. WE ARE ONA was born from the traditional fine dining scene, with the desire to explore innovative ways of creating extraordinary moments for their guests. In 2022, WE ARE ONE decided to follow leading art, design, and architectural fairs events around the world. The team settled at Paris Internationale to make its visitors experience last a little longer by offering them a cuisine, as unique and audacious as the fair.
À l'occasion de cette 8ème édition, Paris Internationale a installé un restaurant gastronomique éphémère au sein de la foire. Mis en place par WE ARE ONA, c'est le chef Thomas Graham du restaurant Le Mermoz à Paris, qui a imaginé un menu qui était accompagné par un accord de vins pensé par Lucy Rosedale et Luca Pronzato.
WE ARE ONA a été crée en 2019 par Luca Pronzato et revisite les codes de la gastronomie classique en offrant des expériences gustatives et de haute gastronomie dans des endroits éphémères dans le monde entier. WE ARE ONA ambitionne d'offrir à ses clients des moments extraordinaires et innovants. En 2022, WE ARE ONA a décidé de suivre les principales foires d'art, de design et d'architecture du monde entier. L'équipe s'installe à Paris Internationale pour prolonger l'expériences de ses visiteurs en leur offrant une cuisine unique et audacieuse, à l'image de la foire.